The honeymoon is definitely one of the main events newlyweds look forward too after their big day! I mean, who wouldn't be? All of the built up stress and butterflies is finally relieved and you and your loved one are finally ready to relax and actually enjoy each other's company.  In the process of planning your own honeymoon?  Check out this absolutely incredible destination spot!  Welcome to the Taj Exotica Resort & Spa located on one of the many secret Maldives Islands.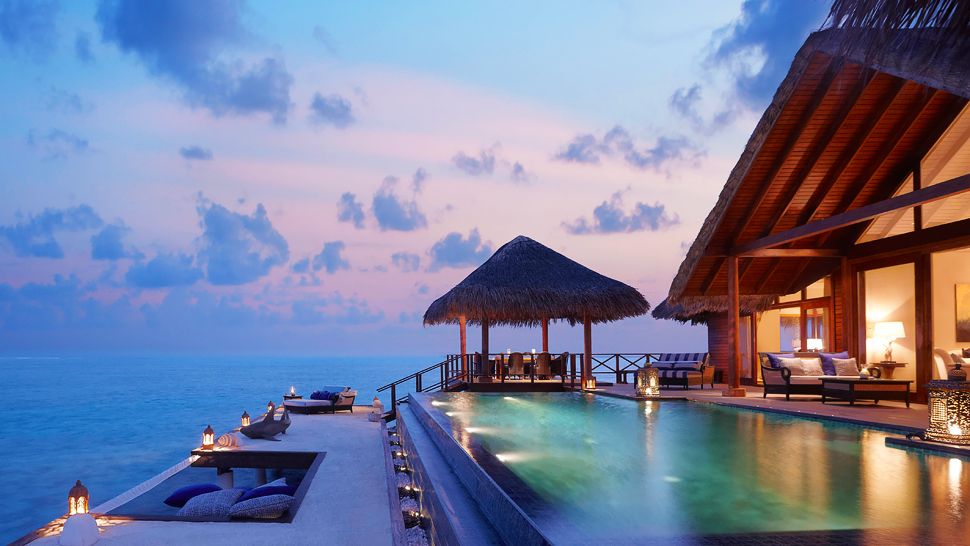 This breathtaking resort takes up the ENTIRE island that is surrounded by the sparkling blue waters of the Indian Ocean.  Even better yet, each couple gets their own private villa. You are literally only a few steps away from the water as you wake up each morning!
There are amazing dining options located poolside but even better yet, oceanfront too!  Why not have a pool to relax in while being able to enjoy the ocean view as well?  There are also exquisite fine dining restaurants throughout the island but even more exciting than all of this is the very private pavilion that stands smack dab in the middle of the ocean where you can enjoy a very romantic meal as husband and wife!
One of their many amazing amenities is the fact that they offer couple spa treatments on a deck looking onto the ocean or in the middle of the water! How romantic is that?!
 We cannot get over how picturesque this island is! Besides absolute natural beauty, we guarantee Taj Exotica Resort and Spa has so much more to offer to make your honeymoon getaway unforgettable!!
For more honeymoon recommendations, keep following!
Be sure to check out our social media pages for more wedding planning details, trends and inspiration!
Website/Blog/Instagram/Facebook
Cheers to my first blog!
BTS Event Management
Phoenix based Wedding Planner – Phoenix/Scottsdale, Arizona